Post by Deleted on Apr 24, 2021 17:32:38 GMT
Name of Wrestler: Victoria McKenzie.
Nickname: The Biggest, Baddest and Most Beautiful Brit In The Game, Queen Thicctoria.
Picture Base: Kaitlyn Marie.
Wrestler Height: 5ft10.
Wrestler Weight: 275lbs.
Age: 25.
Theme Music: Power by Little Mix.
Hometown: Newcastle-Upon-Tyne, England.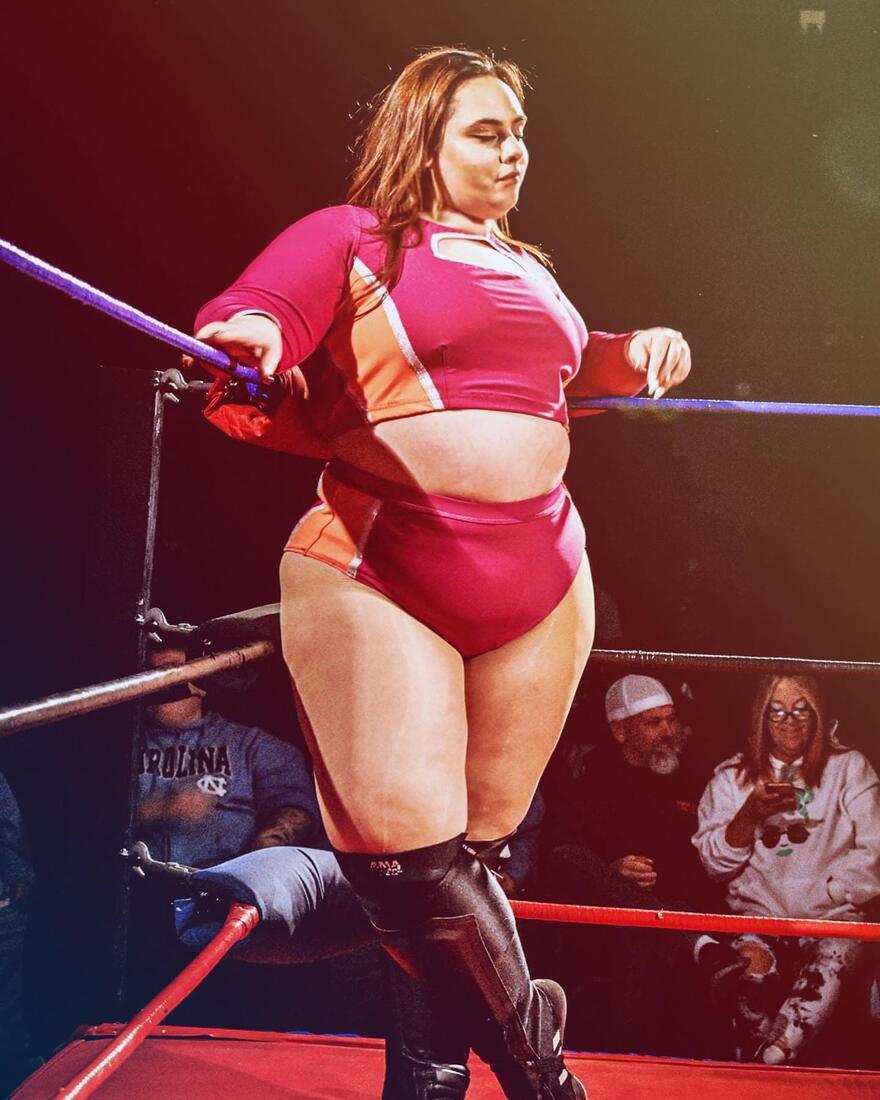 Style of Wrestling: A powerhouse hoss type of wrestler who is also quite agile for her size.
Face|Heel|Neutral: Heel.
Signature Mover: The Party Crash.
Signature Description: Spinning Sidewalk Slam in the manner of the Bossman Slam or The Black Hole Slam.
Signature Move: The Vic and Run
Signature Description: Running Crossbody.
Signature Move: The Quayside Crash.
Signature Description: Air Raid Crash.
Finisher Move: Queen Victoria's Coronation.
Finisher Description: Victoria hoists the opponent up and hits a Spike Piledriver.
Finisher Move: Tyneside Tsunami.
Finisher Description: Top Rope Splash.
Common Moves:
1: Seated Senton.
2: Running Leg Drop.
3: Big Splash.
4: Running Cannonball Senton to seated opponent or with the opponent in the tree of woe.
5: Running Avalanche Body Attack. (either with the opponent in corner or done in a Big E style)
6: Running Hip Attack into cornered opponent; sometimes followed up by a stinkface. (Vic sometimes hits the running hip attack into the corner with the opponent in the tree of woe)
7: Running Seated Hip Drop in the manner of Earthquake.
8: Running Dropkick ala WALTER.
9: Sitout Powerbomb
10: Old School DDT.
11: European Uppercut. (sometimes running)
12: Blue Thunder Bomb.
13: Uranage (in the style of Bray Wyatt or Samoa Joe)
14: Hangman's Neckbreaker with hip swings.
15: Michinoku Driver.
16: Fireman's Carry Double Knee Gutbuster.
17: T-Bone Suplex.
18: Exploder Suplex.
19: German Suplex. (sometimes done in a high angle ala the Everest German Suplex, also can be rolled through ala a Chaos Theory)
20: Gutwrench Suplex.
21: Butterfly Suplex. (either released or bridging)
22: Belly To Belly Suplex. (Yokozuna Style)
23: Northern Lights Suplex.
24: Half Nelson Suplex.
25: Jumping Enziguri. (in the style of Bam Bam Bigelow)
26: Banzai Drop.
27: Ripcord Lariat.
28: Backhand / Pimp Slap to the opponent (used as a strong strike)
29: Geordie Bomb (Gory Bomb).
30: Soccer Style Kick To The Back Of A Seated Opponent followed by a Running Cannonball Senton to the seated opponent.
Other Moves: Sitting on an opponent who goes for a sunset flip (can be used as a hope spot if the opponent moves out the way)
Running Dropkick and Seated Senton combo (during multi-person matches, Victoria hits a running dropkick on one opponent and, when she comes down, she seated senton's a person on the ground)
A Running Body Avalanche Attack To Opponent In The Ropes, Victoria then irish whips the opponent to the other side of the ropes and hits a Running Hip Attack before hitting a belly to belly suplex and then running off the ropes and hitting either a big splash or a seated senton.
Northern Lights Suplex floated over into a jumping seated hip drop to opponent.
Running Hip Attack Into Cornered Opponent, which sends the opponent into a seated position, Victoria then runs off the ropes and hits a big hip attack before backing up and hitting a Running Cannonball attack into the seated cornered opponent.
Running Big Splash or Seated Senton off the apron to a downed opponent on the floor.
A cannonball senton off the apron to multiple, standing opponents.
Gimmick: A loud, arrogant and obnoxious party chick who flaunts her size and talks a lot of trash; she often swings her hips and grinds in a flirtatious way for heel heat and likes to throw her weight around.
Background|History: Victoria McKenzie was born in Newcastle-Upon-Tyne in the North-East of England and didn't really have a lot of friends growing up, she was always quite socially awkward and shy and didn't really have much of a social life; she was diagnosed with Asperger's Syndrome at the age of 5 years old and her parents did everything they could to keep her safe. When Victoria was 12, she first discovered professional wrestling and she became hooked on it, deciding that she wanted to be a pro wrestler as a way to take out her aggressions that had been bubbling up for years due to how isolated, lonely and bullied she felt.
When Victoria was 17, she trained with a local wrestling trainer and, after her training was completed, Victoria headed to Newcastle College to get herself a back-up plan, just in case wrestling didn't work out and she needed something to fall back on; but over the years, Victoria had been putting on some weight and that just gave her more motivation to use her size to good use as she became increasingly more of a bully to other people.
After completing her college qualification, Victoria moved to Manchester after Victoria decided that she needed a fresh start, and, after a while, that just increased Victoria's resentment towards a lot of the world for how she was treated by other people and she was finally given the chance to show what she could do when she was hired by IIW, a promotion that Vic had followed and been a fan of due to also being in the North of England, and the behemoth from Tyneside aims to carve a path of destruction and make sure that she is the centre of attention as she teams with her best friend Kaitlyn Finley to tear up IIW.
Entrance: Victoria smirks as she saunters down to the ring to Little Mix's 'Power', the cocky and plus sized Geordie looks at the fans up and down with a mocking look of contempt; she even gets in the face of a few fans to jaw jack with them before she hops onto the apron and shows off her size by swinging her hips and grinding in a teasing way. Victoria then enters the ring through the middle rope and swaggers around, again showing off her size as she starts to talk trash to the booing fans, giving them the double middle finger or spinning around, bending over and slapping her own rear to show them what she thinks of them.
Voice Claim: Jade Thriwall from Little Mix.