Post by Bob Mitchell on Feb 23, 2021 15:18:55 GMT
Name of Wrestler: Blade Alexander
Picture Base: Seth Rollins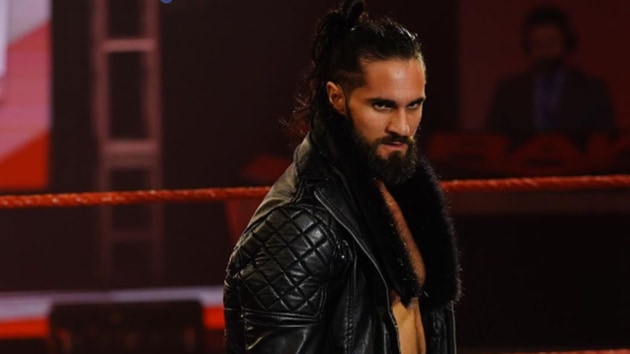 Wrestler Height: 6'1"
Wrestler Weight: 222 lbs
Age: 30
Theme Music: "Would?" by Alice in Chains
Hometown: Moncton, NB, Canada
Style of Wrestling: technical/brawler
Face|Heel|Neutral: Heel
Signature Mover: The Final Cut
Signature Description: Futureshock DDT
Finisher Move: Original Sin
Finisher Description: Package Piledriver
Submission Finisher: Iron Claw
Submission Finisher Description: Iron Claw/German Claw/Von Erich Claw
Gimmick: Blade is a second generation wrestler who's straightforward out for championships and money.
Background|History: Blade was a stand out wrestler in High School claiming provincial and Atlantic Championships 3 years running. Combined with grades in the high honor range he was saved from the harsh disciplinary actions that his constant fighting would otherwise evoke. As the son of a wrestler and a stellar amateur wrestler himself, Blade often found himself in fights instigated by bigger kids putting down his father and his way of life.
Spending most of his time on the road strained the relationship that Blade had with his father and the two were never that close. That didn't Stop Blade from following in his father's footsteps and becoming a professional wrestler. Blade found success almost immediately having been very quickly discovered on the Canadian Indy scene and made an impact for Fusion Wrestling before differences with management led to his departure from the company shortly before it closed it's doors for good.
Since then he has continued to make an impact on the Indy scene, carving out a niche for himself in Nevada based promotions as well as returning to the Maritime Indy scene.
In 2017 Blade made the jump to IIW with his new manager Bob Mitchell. Undefeated through his IIW run, Blade joined IIW mainstay The Commander and the pair won the IIW Tag Team Titles, which they held through IIW's closure.
Now in 2021, thanks to actions by Osh's nephew, Blade finds himself once again in IIW along with Bob Mitchell. After the events of Worlds Collide and Bob's Ascent to Managing Director of IIW Blade has found himself with a new manager in the form of former IIW Ring Announcer Melanie Jackson.
Entrance:
'Poison' by Alice Cooper hits.
Jenny Fletcher - Ladies and Gentlemen, let me introduce to you at this time IIW's own.... MELANIE JACKSON!!!
Out steps the former ring announcer on the stage, her deep brown hair done up in a fierce braided mohawk on the top of her head, her huge blue eyes highlighted by thin black eyeliner and lips accentuated by dark red lipstick. She raises a hand in the air and does a turn on the stage showing off the short tight red dress with silvery glitter highlights that's tightly hugging her slim frame. She lets the IIW fans enjoy the view for a moment before she makes her way to the ring, surrounded in the aisle by security guards so she doesn't get mobbed by men and women both who are hanging themselves over the barricades to touch her.
Once she makes her way up the stairs and under the second rope into the ring where she is handed a microphone and her music stops.
Melanie Jackson - Ladies and Gentlemen.... Introducing first... Hailing from the muddy banks of the Pedicotiac River in Moncton, New Brunswick, Canada... Weighing in at at a perfect 222 lbs... He has never been pinned, he has never submitted in IIW... He is the ONLY man in IIW history to win War Games and change the future of IIW....He is a second generation prodigy and the CARDINAL SINNER of professional wrestling... He is BLADE ALEXANDER!!!
Know me broken by my master
Teach thee on child, love hereafter
'Would' by Alice in Chains hits. In the crowd a spotlight finds a man standing at one of the entrances to the arena foyer. Dressed in long black trunks with a rusty red belt and grey laces tying up the front, the left leg with green paneling with silver highlights down the side, the right leg with the same green and silver highlights in block lettering spelling 'SINNER' down the side, a pair of mustard yellow fronted knee pads, the left sporting the Alexander 'A' logo on the left pad, and black kickpads with rusty maroon red covers with silver highlights strapped over them. On his right hand, the dreaded Iron Claw hand he wears a simple black glove symbolizing the potential doom of his opponent and a ring jacket that consists of a black sleeveless chest with padded metallic green sections with silver highlighting and a black hood which is covering his black hair. Over his nose and mouth is a mask very reminiscent of a Japanese demon mask with curved silver fangs that has the same green and yellow pattering from his attire.
Into the flood again
Same old trip it was back then
So I made a big mistake
Try to see it once my way
Blade makes his way down through the crowd towards the ring. Once he reaches ringside he pushes a security guard out of his chair and stands on it, holding his arms out and taking in the reaction from the crowd before launching himself over the barricade into a roll up to his feet at ringside. He pulls the hood down before sliding into the ring and pulling the mask off, climbing to the second rope, holding out his arms again, before leaping back to the mat and removing his ring jacket.