Post by El landerson on Oct 5, 2021 4:52:02 GMT
CONTRACT SIGN-UP
Before applying, please view our helpful WELCOME PACKET for more information!


GENERAL INFORMATION
WRESTLER NAME:
El Landerson
PICTURE BASE: Rey Mysterio
WRESTLER HEIGHT: 5''2"
WRESTLER WEIGHT: 160 lbs
WRESTLER AGE: 40
HOMETOWN: San Diego California
THEME MUSIC: "619 Booyaka" by P.O.D"
ALIGNMENT: Babyface
IN-RING INFORMATION



WRESTLING STYLE: High Flyer | Brawler

FINISHING MOVE(S): [INCLUDE DESCRIPTION]

1. Landerson Six-one nine

kicks him from behind and makes them trip between the ropes and hit's his Opponent with the Landerson Six One-nine

2. Landerson Frog Splash

climbs up on the top rope and hit's his Opponent with the Landerson Frog Splash
SIGNATURE MOVE(S): [INCLUDE DESCRIPTION]

1. Springboard Sitout Facebuster

flips his opponent onto the floor and hit's them with a Springboard Sitout Facebuster

2. Baseball Slide

kicks his opponent into the midsection and hit's with a Baseball slide

3. Diving or a split-legged moonsault

He does a split-legged moonsault onto his opponent

4. Tilt-a-whirl or top-rope headscissors takedown

flips his opponent into the mid air and hit's his opponent with a Tilt-a-whirl or top rope headscissors takedown

5. Diving bulldog

he runs at his Opponent and hits them with the Diving Bulldog
BASIC MOVES (OPTIONAL):

1. Springboard somersault

2. Flying Lariat

3. Diving hurracanrana

4. Corner slingshot splash

5. Five-Star Frog Splash

6. Reverse crossbody

7. spinning heel kick

8. Leg-feed enzuigiri

9. Spinning Wheel Kick

10. Arm wrench inside cradle
CHARACTER INFORMATION



GIMMICK: A character who is constantly looking on the bright side of life, and never lets anything get them down.
CHARACTER BIOGRAPHY: Why has your character come to Intense International Wrestling? What drives your character, motivates them? Catch us up on the road so far when it comes to your character and their history in this great sport of professional wrestling!
ENTRANCE (OPTIONAL): When Booyka 619 hit's he walks out on stage and kneels down on one knee and prays. He gets up and points to the Fans in Pyro fireworks burst open and switch to the other side of the stage in does the same thing in after he was done he slowly walks down the ramp in slaps some little kids high fives and he stops and stares at the kid in hands him his Luchdor Mask to him and heads straight towards the ring and hops on the turnbuckle and pose both fingers in mid air and walks to the other side turnbuckle in does the same thing mid finger in the air in he gets down and wait for his Opponent arrive. Feel free to include a championship entrance as well!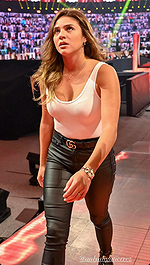 Manager's: Angie Landerson, Aaliyah Landerson



ACCOMPLISHMENTS

Former UWF tag team Champions



HANDLER INFORMATION (OPTIONAL)



Name: What would you like to be called? El Jr

Experience: How long have you been at this? not to long ago

How Did You Find Us?: What brought you here? Google


[/font][/td][/tr][/tbody][/table][/div][/div]